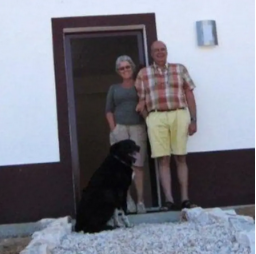 Hello there, my name is Sebastiaan Pennings.
When my parents, José and Norman, saw the fantastic scenery of Monsaraz in the south of Portugal and especially the view of the Alqueva lake, they knew that they wanted to build a house there. And, mature but young of spirit, they did! They named it "Monte das Matas".
When guests stay at the house, many say they enjoy the pool and lying in the sun, cooking meals together or travelling to the surrounding villages, to the Castelo de Monsaraz, to Evora and Elvas, to go shopping or out for dinner, to score some traditional pottery in Sao Pedro do Corval, to lounge at the Alqueva lake, or to see the many, many sights the region has to offer.
When I stay at the house, I like to sit outside and look up at the uncountable stars in the sky, visible because Monte das Matas lies in the "Dark Sky Alqueva Reserve". With a nice glass of wine, of course, because the Alentejo region is home to many wonderful vineyards.